We take extra care in quality control & our standards room is equipped with best measuring instruments available in market.

If you are looking for super precision, supreme quality & timely delivery - then that is our Business!!! Started in a very small way around three decades ago, our company has grown to be one of the most reputed in India.

We are in the market to develop proto type & mass produce or machining of complex & engineering components in batch or mass production basis. We are catering to the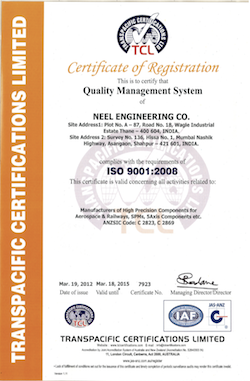 requirement of precision tools like precision machined components & subassemblies as well as special purpose machines. We are a precision machining company specializing in Prototype and Short production Runs for a variety of industries. We create specialty items from large 20 foot tall weldments to small precision machined parts. We make high precision products, micro level tolerance products, and special purpose machinery. NEEL ENGINEERING Co. is reputed for custom manufacturing precision components for industries like railways,aerospace, chocolate manufacturers, bearing manufacturers etc.

NEEL Engineering Co. is your one stop source for Precision. Our specialty items are difficult and hard to find. We have the engineering skills and equipment to fill almost any order from almost any industry. NEEL Engineering Co. combines dedication to quality services and rapid response with state of the art equipment required to perform complicated jobs. Custom manufacturing is an important part of the service NEEL ENGINEERING Co. provides.

The company can handle orders with minimum lead-time. We are confident of our ability to completely produce your products, including the complex parts others walk away from. At the heart of NEEL Engineering Co. service is our prototype department. Working closely with designers and users, NEEL Engineering Co. expertise can be blended with customer know how to create a economically sound design.
NEEL ENGINEERING Co. in association with Siemens India is in a process of developing precision components for Indian Railways.

We take extra care in quality control & all our machined components are checked on the latest Brown and Sharpe CMM machines.