Our client list consists of all major giants across India in various industries like engineering, bearing, automobile, pharmaceutical. It includes companies like Siemens, Godrej, L & T, SKF, Crompton Greaves.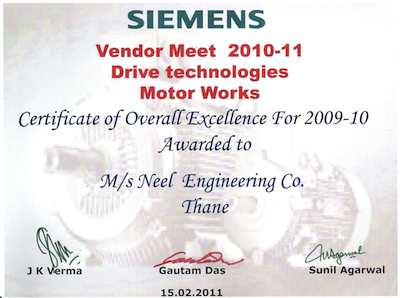 We had also fabricated, assembled & commissioned fully automatic chocolate moulding plant for Cadbury (I) Ltd. Because of our superior workmanship & engineering abilities we are proud to state that we had received a repeat order for this plant within 5 years for their new factory.

We have also supplied rollers for manufacturing Cadbury gems chocolates. These rollers require high precision machining so as to achieve weight tolerance of+/-0.1% in gems tablet.
Watch Videos...

Some of the complex special purpose machines which we have built are fully automatic greasing & sealing machines for all types of bearings manufactured by SKF at their Pune Plant.
NEEL ENGINEERING Co. is involved in manufacturing of customprecision components for Indian Railways.
NEEL ENGINEERING Co. is actively involved in machining of alluminium components for Aerospace industry.